Home » News Computer & Notebook
Acer Aspire 4750G: Notebook Sandy Bridge Affordable With Optimus Technology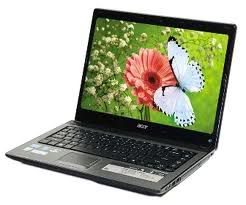 After experiencing the process of Intel 6 series chip-set withdrawal from the market, resulting in delay in the sale of notebooks that use the Sandy Bridge processor, eventually flooded the market starting this month with a variety of notebooks with Intel 6 series chip-set that has been repaired. Sandy Bridge processor itself in image will more-heralded performers, efficient power and equipped with a graphics processor on the die-performing and the claim could play 3D games well enough. The price offered by the device processor notebook with Sandy Bridge seem to be very attractive and affordable. Intense competition in the world of notebooks also affect this price factor.
Acer Aspire series Acer Aspire 4750G is the latest that has been equipped with technology Sandy Bridge. Acer Aspire 4750G is currently present in the market with an attractive price. Unfortunately, Acer notebooks we received this time is the initial batch. Acer Aspire 4750G initial batch of this using a lower graphics from the latest batch that you can find on the market today.
Acer Aspire 4750G uses Intel Core i5 2410M processor that runs at speeds of 2.3GHz and comes with a Turbo Boost (speed can be increased up to 2.9GHz). Memory 2GB DDR3 felt attached enough. However, if you are not satisfied, you can upgrade the memory capacity when needed.
One of the highlights of the Acer Aspire 4750G is the use of NVIDIA GeForce graphics GT520M equipped with NVIDIA Optimus. With this technology, you can perform graphics switch automatically when needed. By default, this notebook is equipped with Intel GMA 3000 graphics. For information, Acer Aspire 4750G which we find in the market is a new batch of using graphics with a higher series, NVIDIA GeForce GT540M. Graphics are certainly having a better performance. However, if by so price becomes more expensive? Not really.
Acer Aspire 4750G dimension itself is not much different from the notebooks with screens 14 "with 1366 × 768 others. Acer Aspire 4750G also comes with one USB3.0 port located on the right. Data storage capacity provided on the Acer Aspire 4750G quite large, you'll get 640GB of available hard disk that is ready to store your data and multimedia files.
As we have mentioned above, this notebook is equipped with USB3.0 ports. You can distinguish this port to see the inside is blue. In the presence of USB3.0 ports, these notebooks no longer need the eSATA port. The reason? Because of various external portable data storage media are now much more use than a USB eSATA.
Like most other Acer notebook output, this notebook keyboard designs using water Lilly design. Tots this type include convenient to use because it has a large cross-section keys. However, the form of a floating key makes cracks easily infiltrated dirt. Extra attention is needed for a notebook with a keyboard of this type. In addition, this notebook has a touch-pad is large in size that allows you to do multitouch movement. Right-and left-click functions also feels soft and comfortable when pressed.
The performance generated by the Intel Core i5 2410M is fair. Differences clock 100MHz with Intel Core i5 520M is not made under it, even better results obtained one point on the benchmark using Sysmark 2007. From the result can be seen that the Sandy Bridge processor has better performance compared with processor Arran dale.
From the initial launch, Intel has claimed that the processor Core i-2 generation to her (Sandy Bridge) will be more power efficient. This was proved by test results Battery Live Ratings on this notebook. He can live for 336 minutes, equivalent to 6 hours 36 minutes. These results include very good considering the high-performance processor which usually absorbs a lot of power.
Results obtained to conduct the process of transcoding the movie is also amazing, both when using the GPU as well as activate the feature Quick sync. You can see the difference in time when doing this process by using an optional feature quick sync. The resulting time difference is far adrift.
In tests using artificial benchmark programs Future mark seen the results obtained showed that the NVIDIA GeForce 520M can play various games with the setting and specific resolution. Therefore, we continued testing using 3D gaming benchmarks to show you how the actual performance NVIDIA graphics from this.
Viewed from a variety of terms, Acer Aspire 4750G notebooks can be regarded as a fairly complete. The performance offered will be able to run applications smoothly middle to upper. NVIDIA Graphics provided to run many 3D games well at native resolution with medium settings and above. NVIDIA Optimus given enough to make this notebook can survive for long.
Acer Aspire 4750G is a notebook for different atmosphere, you can work, play, and even make this notebook as an entertainment center with a HDMI port that enables you to connect to large screen LCD TVs. Specifications, completeness and performance of a given proportionate with the price offered is very good and reasonably priced.